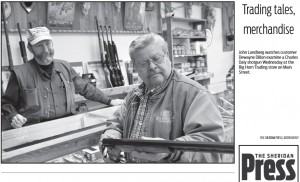 SHERIDAN — At least five Sheridan businesses are gearing up to attend the Government Resources and Opportunities for Business Conference and Idea Expo in Cheyenne next week.
This year's conference will focus on providing a training and networking opportunity for entrepreneurs from across the state and will feature an appearance by U.S. Sen. Mike Enzi.
The Gro-biz Conference is organized by the U.S. Small Business Association for entrepreneurs from across the state to converge and sharpen their business trajectory.
John and Kathy Lundberg opened Big Horn Trading, LLC, on Sheridan's Main Street in the past year, and for them, attending the conference is a continuation of several educational opportunities offered by the SBA.
Big Horn Trading is a pawn and consignment shop, a gun and ammo store and an online consignment shop. Along with offering online services, the team sells outdoor sporting and survival gear — they even have "prepper gear," or equipment necessary to survive a natural disaster or other catastrophe.
The Lundbergs moved to Sheridan after owning a campground in Montana for 13 years. They took a road trip all the way to the west coast in search of a new location to launch a retail business and stayed in Sheridan both coming and going on their journey.
After selecting Sheridan for its Main Street charm and inviting community, they attended local SBA-sponsored workshop. From there, they couldn't get enough.
"I was blown away and signed up for online courses," Kathy Lundberg said, indicating she appreciates other fee consulting services, guidance and help available in the state.
"When I learned about the Gro-biz thing coming up, I immediately signed up," Lundberg said,
Kathy Lundberg explained this year's conference peaked her interest because she's interested in securing government contracts to expand her sales base. While the government doesn't enter contracts with businesses that have been around less than three years, Lundberg wants to be ready when the time comes.
"(The SBA) provides the most incredible services," she said. "I can't talk enough about it."
Ken and Melissa Huckeba, proprietors of Melken WeatherGuard, will be second-time attendees to the event. Last year, Ken Huckeba went alone, but this year, he's bringing his business partner and wife, Melissa.
Ken Huckeba worked in construction for 30 years and used his experience to invent a long-lasting fascia-like sealant used around garage doors, side jams and headers.
The locally invented product is on the shelves in local stores, and Huckebas converted their home into a shipping center.
Today, the future of Melken WeatherGuard depends on increasing a client base and spreading the word. The Huckebas are hoping to get the same boost in exposure they enjoyed from attending the conference in Cody last year.
"Last year, he came home loaded down with information and contacts," she said, indicating many of the contacts picked up at the conference panned out into more business.
Having both teammates out of town takes some logistical shuffling. Huckeba said they're putting in extra time in order to get ready to leave for the three-day event and expect to play catchup upon their return. However, she said, it's worth the extra effort.
'Our time is for us to schedule the things we think are important," she said. "This is important to us."
In addition to Enzi and the SBA, partners of the conference include Wyoming Gov. Matt Mead, Wyoming Entrepreneur, the Wyoming Business Council and the University of Wyoming.
The Sheridan Press  Tracee Davis
Date posted: February 14, 2014
– See more at: http://thesheridanpress.com/?p=17628#sthash.r2BHa4dv.TgZvvEt8.dpuf