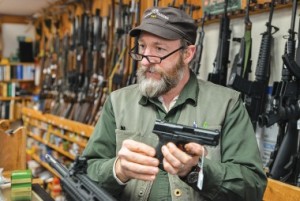 We recently had the opportunity to speak with The Sheridan Press about President Obama's executive order on gun control last month. The order, which outlines new gun control regulations and expanded background checks, will likely not have a large impact on local businesses such as ours since most local dealers are already licensed. However, as we mentioned to the Press, we believe that a better approach to decreasing gun violence is to focus on enforcing gun laws already on the books. You can read more about our conversation with the Press, as well as input from other local businesses on The Sheridan Press' website.
About Big Horn Trading
Big Horn Trading is your friendly downtown pawn shop, and a member of the National Pawn Brokers' Association – meaning your transactions will always be confidential. We are also Sheridan's only Class III firearms dealer, authorizing us to sell silencers and other Class III firearms and accessories.
Whether you're looking for Class III firearms accessories or a pawn shop – or anything in between – come on down to Big Horn Trading to see John and Kathy Lundberg.