Class III Firearms License and Silencer Distributor
Big Horn Trading: Your Class III Firearms Dealer
At Big Horn Trading, we believe that we share a common set of values and interests with our customers, whether casual shooting enthusiasts, dedicated marksmen, or folks with a mindset toward emergency preparedness – our common beliefs include emphasis on personal freedom and liberty, self-reliance, and individual responsibility.
We take pride in providing products to our customers that are in keeping with these shared values, and as the only Class III Firearms dealer for nearly 100 miles around, Big Horn Trading now fills a role that nobody else does to help our customers purchase products that are otherwise incredibly difficult to obtain. Our distinction of having a Class III Firearms license means that in addition to our regular selection of firearms, we are now able to sell and facilitate the transfer of restricted firearms and accessories.
Obtaining A Class III Firearms License
A Class III Firearms license is obtained from the Bureau of Alcohol, Tobacco, Firearms and Explosives as an additional distinction to the traditional Federal Firearms License. The additional licensing to be a Class IIII Firearms dealer requires significant legalities and permit expenses, which is part of why they are relatively rare in this region. Big Horn Trading completed this rigorous permitting process because we wanted to be able to support our mission and customers by providing products that are unavailable anywhere nearby.
Class III Authorized Products
This license allows Big Horn Trading to sell and transfer restricted items like fully-automatic firearms, short-barreled rifles/shotguns, and accessories such as silencers. Currently, the only of these items we deal with regularly are silencers because of their practicality as training aids, hearing protection and hunting accessories.
SilencerCo – Leaders In High-Quality Silencers
Big Horn Trading is an authorized dealer for SilencerCo – a leading silencer manufacturer that has made a name for itself with quality and innovation. SilencerCo was founded in 2008 with the fundamental goal to produce better silencers. As the company has grown and the product line expanded, this goal has remained at the heart of operations – ensuring that the final product has been thoroughly developed and tested to provide the utmost quality.
SilencerCo manufactures silencers for shotguns, rifles and handguns, along with the necessary threaded barrels, and is heavily dedicated to ongoing research and development of additional products to meet customer and industry needs.
We encourage you to visit SilencerCo's website – the information about their products and company are well worth the read. At the same time (or once you've done your research on their site), don't forget to visit our online selection of silencers to place your order.

We've talked before about how great Berkey water filters are (and that they can remove fluoride), but we just can't get enough of them. After all, how do say "enough" when it comes to ensuring you're drinking clean water? When evaluating the effectiveness of a water filtration system, it's important to know how much of a contaminant the filter can remove, but also what kinds of contaminants the filter is effective on. Many people think of water filters as removing bacteria and microorganisms from water, but there's actually many more contaminants that can be just as harmful.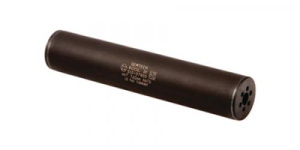 As the Class III Firearms dealer in Sheridan, Big Horn Trading is your source for high-quality suppressors and accessories at great prices. We carry suppressors that are designed for precision, optimized for accuracy and are light-weight and durable. Suppressors reduce noise, muzzle flash and recoil, lowering the potential for hearing damage and allowing you to focus on shooting fundamentals.
Shop our online store to find the right suppressor today!
Preparedness Resources
Reference Books